Weddings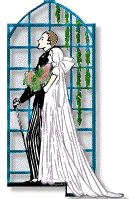 The Party Shakers are an affordable way to have great entertainment at your wedding.
The price tag that comes along with wedding DJ's doesn't necessarily "fit the bill". Just because someone charges you more or less doesn't gurantee anything. When choosing a DJ for your wedding, make sure you call around. You're not only looking for the best price, but your looking for someone you can feel comfortable with and have confidence in. It's important to have an idea of what you want going in. You don't want to pay for all those blow up instruments and crazy wigs if people aren't going to volunteer to do it. You also don't want someone who is going to talk all night. We like to keep it simple because the day is your's. Through consultations leading up to the big day we will cover every detail. What songs to play and not play, how to pronounce names and what activities you want to do throughout the course of the night. "The Chicken Dance" is making it's way out of the wedding scene, but if you want it - we'll know it because we talked about it. We will also be ready and flexible for any changes prior to or during your event. The Party Shakers will save you money along with providing you professional, reliable entertainment.
Planning a Wedding? Needs some Ideas or Advice? Click Below!